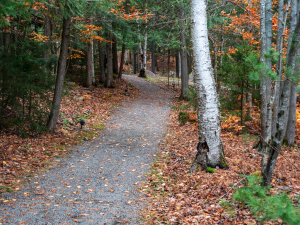 For more than 50 years, Syracuse University's Minnowbrook Conference Center has offered a rich array of educational programs in a setting many describe as the most beautiful in all the Adirondack Mountains. During the first half of the 20th century, Minnowbrook was a rustic private retreat now referred to as "the symbolic last of the 'great' or 'trophy' camps in the Adirondacks." (Craig A. Gilbert, Adirondack Camps, p. 206) In 1953, it was deeded to Syracuse University and converted to an educational facility, with architectural enhancements that harmonized with the surrounding forests, lakes, and mountains.
When fire destroyed the main lodge in 1988, Syracuse University committed to an innovative reconstruction that retained Minnowbrook's architectural heritage while adhering to modern building standards. Through careful blending of old and new, Minnowbrook's latest incarnation combines modern ingenuity and the inspired craftsmanship of the Great Camps.
Minnowbrook's world-class learning environment in a rustic setting carries on another important Adirondack tradition-that of the "philosopher's camp." In 1858, Ralph Waldo Emerson started the original philosophers' camp at Follensby Pond in an effort to help important thinkers of the day find inspiration away from the distractions of the city. Notable scholars James Russell Lowell and Louis Agassiz were among the first to benefit from the camp.
Putnam Camp at Keene Valley, founded in 1877 by William James and a group of medical doctors, attracted the likes of Jung and Freud, as well as numerous poets and painters, Mark Twain's camp on Lower Saran was also an oasis for reigning intellectuals of the 19th century and provided the setting for some of his most inspired writing. Each of these scholars was inspired in their own way by the tranquility of the Adirondacks and the surrounding wilderness.
Minnowbrook continues this tradition as a key contributor in an ongoing Adirondack "Renaissance of Learning." The lush woods, soaring mountains, and crystalline lake provide an inspiring natural backdrop for intellectual exploration.